Ocean Oddities Slots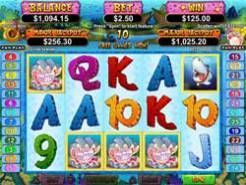 Current Jackpot
$1,035.71
Play Now
Ocean Oddities Slots has an oceanic theme. The symbols are as colorful as ever, and it is very entertaining. This is an ideal slot for new online players from the US. With its two jackpots, you will know doubt be playing this game for a very long time as these random jackpots can be won at any time.
About the Game
There are two jackpots in this game: a Major and a Minor. Either one can be won at any time, at the end of any game, as both are random progressive jackpots. The slot also has an Auto Play button for your convenience. You will most likely enjoy the background music as it sounds a great deal like Country music. We encourage you to read the pay table before you begin playing the game as it contains all the symbols, payouts, special features, and general rules of the game.
Playing the Game
The two most important symbols in this slot game are Rex, the Wild symbol, and Pearl, the Scatter symbol. Rex is a barking shark, and he will only appear on reels 2 through 5. He will substitute for all other symbols to form winning combinations. He does not substitute for the Scatter symbol. Pear is the Scatter symbol, and when she appears with Rex you win will be 800xs your bet. If you get all five Pearl symbols, you will win 50xs your bet. Also note that any symbol appearing with Rex will pay out in huge numbers. The highest payout is 40,000 coins.
Free Spins Round
When you get three or more Pearl and Rex symbols appearing anywhere on the reels, you will be trigger the free spins round and be awarded 10 free spins. Each Rex symbol will pay a 2xs multiplier up to 16xs depending upon how may Rex Symbols appear on the reels. All game symbols along with the Rex symbol that appear on the reels can pay out as much as 16xs your trigger bet. Also note that during the free spins round, if you get a King Fish symbol on reel one, and 5 Rex symbols on the same pay line, you will win 40,000 coins. Ocean Oddities Slots is another high value game. There is nothing odd about this game other than the fact that Rex barks. You will have loads of fun playing this game and expect to win high payouts as well.