Polar Explorer Slots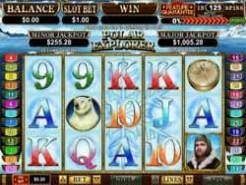 Current Jackpot
$2,180.83
Play Now
In playing Polar Explorer Slots, you have a chance to become the explorer of the Arctic. With freezing temps, as you could see from the background of the slot, there is also a giant snowflake in the middle of the slot reminding you that this is a place where the temperatures are way below norm. This slot is wonderfully designed, and has two progressive jackpots. That should get you warmed up in a hurry.
About the Game
Polar Explorer has two progressive jackpots: a Major and a Minor. It also has a Feature Guarantee. There is also an Auto Play button you can utilize at any time. There is a Help button at the bottom of the slot where you can access the pay table. This pay table will show you all the symbols, payouts, special bonus features, and general rules of the game.
Playing the Game
There are two special symbols in this game: the Explorer and the Ship. The Explorer is the Wild symbol and will substitute for all other symbols to form winning combinations. He does not substitute for the Scatter symbol. Get all five of the Explorer symbol and win 5000 coins. Here's a first! If you get cards ace through nine on reels 2, 3, and 4 and you notice a snowflake behind these symbols, you will trigger one of three bonus features. They are: Explorer, Discovery, and Hidden Treasure.
The Explorer Bonus Feature
In this bonus feature, 5 free spins will be awarded and reels 4 and 5 will consist of the Explorer symbol expanded. If any 3 scattered ships appear during these free spins, you will be given 5 additional free spins.
The Discovery Bonus Feature
In this bonus feature, 8 free spins will be awarded and one reel will always contain the Explorer symbol and/or may be grouped during the free spins. When you get 3 or more scattered Ships appearing on the reels during this round, you will win an additional 8 free spins. This retrigger will only occur twice.
The Hidden Treasure Bonus Feature
On a second screen, a Snow Cave will appear with five treasure chests. Your will be asked to select each chest to reveal bonus symbols. A maximum of 3 bonus symbols will be awarded. In addition, 8 free spins will be awarded during which any of the bonus symbols collected will appear and be replaced with the Explorer symbol. Any 3 or more scattered Ships will give you an additional 5 free spins. If a cave-in occurs, the game is over.
The Feature Guarantee
At the top right hand side of the slot game, you will see "Feature Guarantee." Under the Feature Guarantee you will see a percentage. Next to the Feature Guarantee will be the number of spins needed. This is called the Instant Trigger, which will allow you to activate the Feature Guarantee within a given number of spins. Because this is a very unique feature in Polar Explorer Slots, we highly recommend you read about this feature in the pay table. There are two pages giving you information about this feature. Polar Explorer Slots is a very unique and lucrative slot game. It is one that has features that are completely unparalleled in this genre. This is a high value game and one in which the task of exploring the Arctic won't seem so bad when the payouts start rolling in.