PayDirt! Slots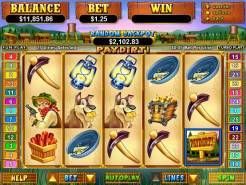 Current Jackpot
$1,034.31
Play Now
PayDirt! Slot has been one of the most popular progressive slots games among US players. I particularly love this game as well. Note that there are two pay tables in this game, so be sure to view them before you begin playing the game so that you can be very successful in winning large payouts.
About the Game
PayDirt! has two pay tables shown at the top of the slot. The one on the left is the low paying symbols, and the one on the right is the high paying jackpot symbols. There is an auto play button available for your convenience. In my article "What is Max Bet," I explain the importance of betting the max especially when playing progressive slot games. Imagine not betting the max and getting the three like symbols and missing out on the progressive jackpot! This has happened many times to players online as well as at land-based casinos.
Playing the Game
In PayDirt Slots, you can bet 1, 2, or 3 coins, hit one of the jackpots and still come away with a nice sum of money. For example, if you bet one coin and get A Fistful of Money symbol, you will win 15% of the total progressive amount. If you bet two coins and get two Fistful of Money symbols, you will win 25% of the progressive jackpot. But, if you wager all three coins and get all three Fistful of Money symbols, you will win the entire progressive jackpot. The highest paying symbol, other than the Fistful of Cash, is the Pyramid with the Eye symbol. Get all three and depending on if you bet 1, 2, or 3 coins, you can win 600, 1200, or 1800 coins respectively. But it is the PayDirt Progressive slot that you are really vying for, so if you can, bet the max all the way.
PayDirt! Slots is still the best slot to play as far as I am concerned. It is easy to follow as it is a classic slot of sorts; has a fabulous progressive jackpot; and regardless of whether you wager one, two, or three coins; you will still come out a winner.