Penguin Power Slots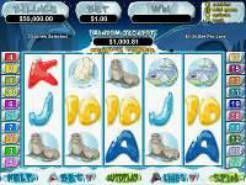 Current Jackpot
$1,499.64
Play Now
Penguin Power Slots really does reflect the power of these penguins. The strength and urgency to get back to their chicks to feed them after trekking miles is quite incredible and heartwarming. Once they do reach their little ones, the males can then go on the same trek to get food. And the circle continues. The penguin symbols in this slot game are frozen by the winter weather. To warm themselves, they form a tight circle around each other and continually move towards the inside of the circle.
About the Game
At the top of the slot machine you will find the Balance, Bet, and Win boxes. At the bottom of the slot you will find Bet, Lines, AutoPlay, and Spin. The Auto Play in this slot game also has a Turbo Speed feature in which the reels do not spin, but merely drop down. You can play it either way. We recommend you read the pay table as it will give you the symbols, payouts, and any special features plus the general rules of the game. You can find the pay table by clicking on the Help button at the lower right hand corner of the slot, and then click help again to reach the pay table.
Playing the Game
The Baby Penguin is the Wild symbol and he substitutes for all other symbols to form winning combinations. He will only appear on reels 2, 3, and 4. He will not substitute for the Scatter symbol. When one or more Baby Penguins appear in a winning combination, your pay out will be doubled. The Scatter symbol is an Igloo. Get all five to win 200xs your bet. Also note that when any symbol appears with the Baby Penguin, your payout will be doubled.
The Penguin Power Feature
The Penguin Power Feature will be triggered when you get 3 or more Igloos appearing anywhere on the reels. From 5 to 25 free spins will be awarded. Extra Igloos and Baby Penguins will be added to this round. There is also one other feature in this round and that is if a Baby Penguin appears on the same horizontal level as the Igloo on reels 1 and/or 5, the Penguin will then slide down to the Igloo to reveal additional bonuses. The bonuses will be multipliers anywhere from 5xs to 100xs your trigger bet and from 2 to 10 additional free spins will be awarded.
Penguin Power Slots offers you an opportunity to receive lucrative payouts. Moreover, how can you not love these penguins? "No straight lines make up my life; and all my roads have bends; there's no clear-cut beginnings; and so far no dead-ends.